Hello, Brothers and Sisters! I'm extremely excited of being able to share my knowledge with you in my books The Buddha Journey: Questions and Answers for the Awakening Mind and Making Friends With Our Mind: A Basic Guide to Buddhist Meditation. I hope you will enjoy it just as much as I enjoyed creating it! Below you can order the books on Amazon (The Buddha Journey is also available on Kindle).
Scroll down for some reviews!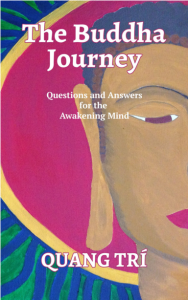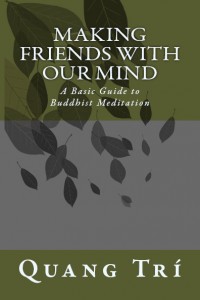 Making Friends With Our Mind is also available in PDF format for your convenience for and accessibility. Buy below.
Buy eBook

Subscribe to The Buddhist Book Club's monthly book subscription and receive one or more of the newest books on Buddhism every month! Subscriptions start at $12.99 a month.
---
REVIEWS
"Truly happy people are happy because they don't allow their false judgments to take over situations and their lives. If we can't see the beauty in a chaotic world, then all we have left is suffering.
"That is a major meditation practice – to meditate on the trueness of things. If you "think" people are saying things about you, sit down and meditate on those words. Meditate on the trueness and falseness of those words and break through their untrue gates. When we can start doing that for everything, we become much happier and peaceful people."
This quote shows the simplicity and clarity of Quang Trí's fine writing in this powerful handbook for anyone interested in learning about Buddhist teachings or for students of the Buddha who want to find answers for specific questions they have or may be asked.
The book is divided into three main sections. First, the story of the Buddha's life is told in a very straightforward style. Then basic topics clarifying the teachings of the Buddha and meditation compose the next section. In the final and longest part of the book,  specific topics and concerns are addressed in a Q-and-A format.
I loved this book and will recommend it to our new students as well as seasoned practitioners who want an inspiring yet practical guide. The notes and glossary are priceless, as is the organization of material.

-Bhante Sujatha, Abbot of the Blue Lotus Temple
—
The Buddha Journey is everybody's journey. Quang Trí writes with wisdom and compassion. His joy and passion for exploring and sharing the Dharma jumps from every page.
From the Buddha's life to your life, Quang Trí presents Buddhist philosophy and practice for people of any faith who are interested in how Buddhism could enhance their journey.
Quang Trí's knowledge and passion for the Dharma, the Buddha's teachings, and his desire to help others discover the joys and benefits of practice make The Buddha Journey a great resource for anybody at any stage of their own journey of discovery.
From the Four Noble Truths to the Three Poisons, Quang Trí's The Buddha Journey explores various Buddhist teachings and practices and makes them accessible for anybody to use.
From the Buddha's time to today, The Buddha Journey presents the fundamental teachings of Buddhism asking and answering questions that demonstrate how the Dharma can illuminate any journey.
Quang Trí's wisdom and compassion created The Buddha Journey so that we may learn peace and focus from the ancient traditions to practice getting along in today's hectic world.
-Zen Master Peter Taylor, author of Smell the Coffee and Wake Up
—
Quang Trí set up his spiritual GPS for the search of self-transformation. As he makes his journey, he aspires to accompany many Buddhist fellows to travel with him to the other shore of awakening, it is commendable – a big endeavor but worth of his steady efforts. Through his studies and practices, he has discovered the beauty of the Dharma.
-Venerable Thich Phuoc Quang, Abbot of the San Antonio Buddhist Temple